"Inspiration" had been held in the downtown of Los Angeles by Rin Tanaka, who is known as a author of "My Freedomn". A lot of Clutch Men and Women came to the show and Clutch crew shot photos of them. They will be introduced in the next Clutch Magazin which will be sold on 24th April, 2016.
Before that...
It seems vintage athletic wear is now being hot.
What's the "Vintage Athletic Wear"??
Some of the styles from the show are introduced below
Dehen is the knitting company in Portland, Oregon. And they started their business in 1920.
Speaking of Dehen, their motorcycle sweater is famous. However, they are also producing varsity jackets and school sweaters.
Baseball Shirt(Dehen calls it "Batting Shirt") has been for maniac collectors item, but it will be quite cool this year.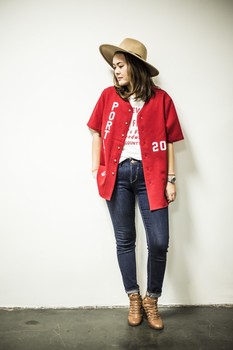 It goes well with your denim.
*All texts and pictures from
CLUTCH Journal(CLUTCH web)
Dehen Japan
〒158-0082 東京都世田谷区等々力 2-5-3
2-5-3, Todoroki, Setagtaya-ku, Tokyo 158-0082
Tel. 03-5752-3188
Homepage.
www.dehenjapan.com
Online Shop.
www.dehenjapan.com/onlineshop